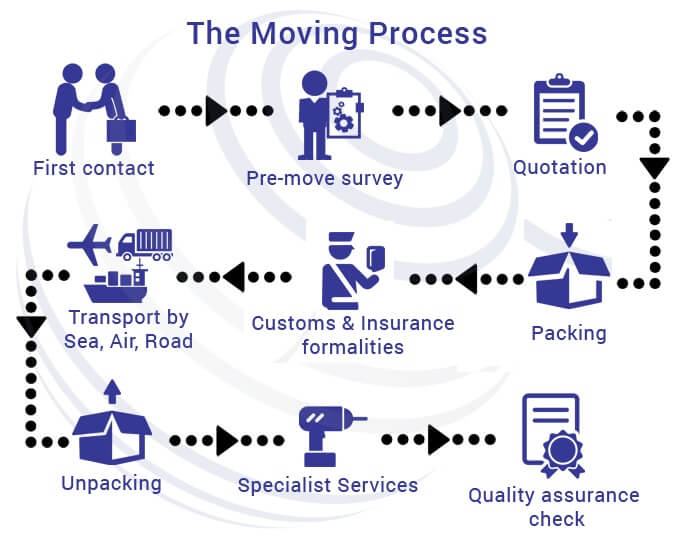 Packing And Moving Process
Trans Home Packer Standard Relocation and Packing company in India. If you need movers and packers service then Trans Home Packers perfect relocation partner for packing and moving services. Our core team and quality packing material make your shifting easy and smooth. If you need home and office relocation service then many problems facing then you Choose Relocation Company for packing and moving. We provide international standard packing service for domestic relocation. We provide professional packing at a very affordable price. Our team all well trained and professional for home moving, office moving service, Warehousing Services.
Our Marketing Team Fix About Meeting Time & Date with Customer then we take next step -:
Trans Home Packers work step by step. First, the steps are for our marketing person to visit your location / Ask for a list of goods from the customer and see your goods and discuss your moving process and moving date or packing time if it's fixed then we provide our quotation.
Packing Process:We use Quality packing material for professional packing and moving service our team well knows about packing process. We used the most advanced packing technique for glass and other valuable goods. All Glass and Crockery items rap by bubble sheet / Newspaper and put into the carton box. All item is carefully handling the packing process. All goods are well packed with quality packing you see in this packing your goods are safe and secure.
Glass items: We pack Glass with Jelly paper and bubble sheets then we rape with Gum tape, after then we put it into a Carton box, Corrugated box if need we use Foam sheets for big Glass then we use Bubble sheets, cardboard sheet after then we laminate then all glass items will reach in Good and safe Condition at the delivery Destination. We handle all glass items very carefully during the complete relocation process.
Electronic items: We use special packing material for electronic items like LCD, Refrigerator, Music systems, Washing Machine, Computer, laptops, printers, and other electronic items we use plain Bubble sheets then we use new five-ply cardboard sheets, foam sheet after 100 % Safety of your electronic items to reach the destination in Safe condition. We load your electronic item very carefully in the lorry and unpack it at your destination.
Furniture Item: We pack your furniture item by the double layer of bubble sheet and Cardboard Sheet after then We Laminate that is save for dust and breakage. You see your goods are safe for transit.
Transportation: We have own fleet trucking for transportation for home goods and office goods. We use an indivisible and Part Load vehicle for Transportation.
Loading Process: Our teams all goods load in a lorry very carefully and then we dispatch the lorry to the delivery location.
Unloading and Unpacking: Our team come to your door and unpacked all items and rearrange all major items as you need.
Intercity Moving Process:If you need intercity relocation service then we pack your home goods by bubble sheet and foam sheet. Kitchen items and clothing pack in carton boxes. We unload and unpack your goods at your destination. Then you got reliable relocation service.
Trans Home Packers And Movers provide reliable packing and moving service. Our professional team provides standard packing service for your valuable goods. We care about your goods during the moving process. Our team manages the complete moving process is that Domestics Moving, Local Relocation, Only Packing Service, International Moving, Loading, Unloading, Unpacking Service.
Material for Packing
Bubble Sheet, Cardboard Sheet, Gum Tape, White Tape, Carton Box, Wooden Box for Glass Item, Transportation – our all vehicle is GPS attached and close container they are special design for Home and Office Goods Transportation.